DON'T FORGET TO BUY YOUR TICKETS TO THE HOLLYWOOD SHOW: January 11th-13th
The Hollywood Show is the best known autograph show in the Hollywood area. It is held four times a year in Burbank, with actors, writers, performers, collectors and celebrities coming together to meet fans and autograph pictures and merchandise. The Hollywood Show will be held at the The Westin Los Angeles Airport: 5400 W Century Blvd Los Angeles, CA, 90045. For a full list of the attending celebrities and ticketing info go to
hollywoodshow.com
!
MAX BAER JR. joins the show to talk about his upcoming appearance at The Hollywood Show!
The son of former heavyweight boxing champion Max Baer, Max Baer Jr. is a classic (except probably to him) example of Hollywood typecasting. Known around the world as "Jethro Bodine" in the smash TV series "The Beverly Hillbillies" (1962), Baer did not find work as an actor in Hollywood for three years after the Hillbillies went off the air. Baer finally had to put himself to work as an actor in his movie Macon County Line (1974), which he also wrote and produced with a friend. Although it didn't let him escape his Jethro character, he did earn more than $35 million dollars in box office and (later) rental receipts. This after an initial investment of just over $100,000. Not bad for a boy with a "sixth grade education!"
TONY DOW joins the show to talk about his upcoming appearance at The Hollywood Show!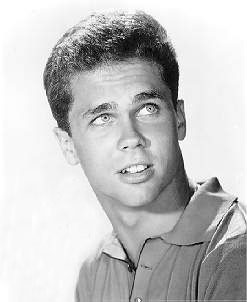 Tony Lee Dow is an American film producer, director and sculptor, and a television actor. Dow is best known for his role in the television sitcom Leave It to Beaver, which ran in primetime from 1957 to 1963. Dow played Wallace "Wally" Cleaver. Dow remained on the series until it ended in 1963. After the run of Leave It to Beaver, he appeared on My Three Sons, Dr. Kildare, Mr. Novak (five episodes in three different roles), The Greatest Show on Earth, and Never Too Young. From 1965 to 1968, Dow served in the National Guard, interrupting his acting career.[ On his return to acting, he guest-starred in Adam-12, Love American Style, Square Pegs, The Mod Squad, The Hardy Boys and Emergency! During the 1970s, Dow continued acting while working in the construction business and studying journalism and filmmaking.[5] In 1987, he was honored by the Young Artist Foundation with its Former Child Star "Lifetime Achievement" Award for his role as Wally Cleaver.[6] Dow's most recent screen appearance was in the 2003 film Dickie Roberts: Former Child Star. In 1986, he wrote an episode of The New Leave It to Beaver, and in 1989, he made his directorial debut with an episode of The New Lassie, followed by episodes of Get a Life, Harry and the Hendersons, Swamp Thing, Coach, Babylon 5, Crusade, and Star Trek: Deep Space Nine. Dow also served as the visual effects supervisor for Babylon 5. In 1996, he provided visual effects for the Fox TVM Doctor Who.